Apps

Hawaii Snorkel Fish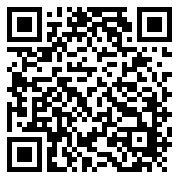 Bar code scan this QR code from your phone to download Hawai Snorkel Fish
Hawaii Snorkel Fish is an app for Android phones.* Browse, search, and identify over two hundred reef fish that you may see at snorkel depth on Hawai`i coral reefs plus some rarely seen fish and marine mammals. Beautiful full color zoomable photographs by John Hoover, award winning marine life author and photographer, displayed along with detailed information about the fish. Browse by family groups, mark your favorites, search by characteristics and/or names, view a slideshow with or without fish details, log your snorkel trips, and find guidebooks with even more info on Hawai`i reef fish and directions to top snorkeling sites.
On start-up, you have six buttons displayed in water bubbles poised over a moving ocean background with reef fish occasionally swimming by.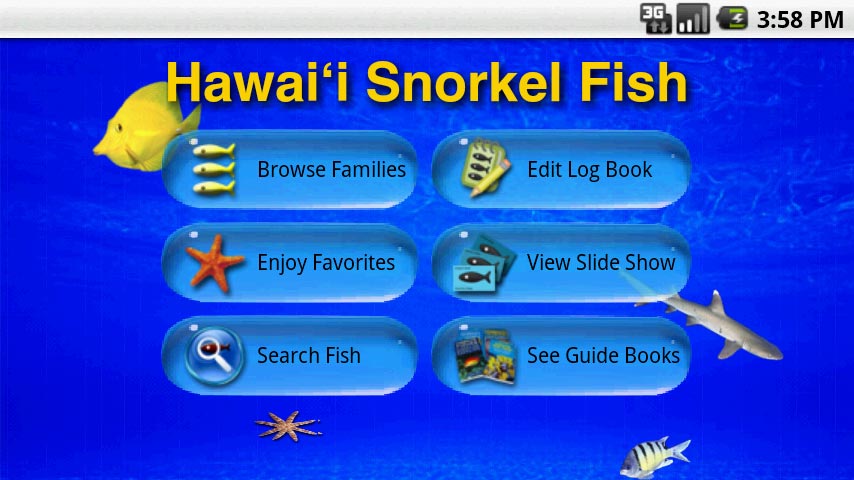 | | |
| --- | --- |
| | Browse Families: Feeling overwhelmed by the thought of 200 snorkel fish? All the fish are conveniently organized by their family groups. This button displays an alphabetical list of 35 family groups with a representative thumbnail photograph and the number of members in the family. (Some families are combined for ease of browsing.) Selecting any family takes you to an alphabetical list of the members. Selecting any one of the members bring up the Fish Detail view. [Browse Families video 1:30 min] |
| | Enjoy Favorites: Want to remember a fish to show a friend later? Almost any time you see a fish in the app, you can mark it as a favorite. Selecting this button will take you directly to your list of favorites. Selecting any one of your favorites will bring up a Fish Detail view. [Enjoy Favorites video 1 min] |
| | Search Fish: Trying to identify that yellow fish with blue stripes you saw? A quick search will narrow down your options from over 200 to only a handful. You can search on any combination of size, shape, color, markings, position in the water column, schooling behavior, endemism (uniqueness to Hawai`i), favorite status, fish seen, common name, scientific name and Hawaiian name. [Search Fish video 1:18 min] |
| | Edit Log Book: Had a great snorkel adventures and want to remember it? Keep track of your snorkel adventures. Note the day, time, buddies, conditions, and even GPS location. Easily create a list of fish you saw on each excursion using the extensive search capabilities. [View Log Book video 2:47 min] |
| | View Slide Show: Want to watch the beautiful photographs flip by or quiz yourself on fish identification? Selecting this button brings up a simple instruction screen and then with a tap, all the snorkel fish photographs are displayed in random order. With your touch screen or menu buttons, you can pause, move back and forth between photos, and toggle automatic display of detailed information as each photo flips by. Students can use the slides as flash cards for quickly learning fish identification. [View Slide Show video 54 sec] |
| | See Guide Books: Want to learn more about the fish? Want to find out where to snorkel? This button takes you to descriptions and links for some of the best guide and reference books on Hawaii reef fish and snorkel sites. [See Guide Book video 36 sec] |
So what was that yellow fish with blue strips you saw swimming by?
Select the Search Fish button and mark your characteristics with the colors mostly yellow with blue and has stripes. Notice that five (5) of the fish match these characteristics. Touch the View Results button to see a list of the matching fish.

The five fish are listed in a scrollable view for you to examine.

Fish List View: Each time fish appear in a list, you will see a small photo of the fish, its common name, Hawaiian name if there is one, and an icon indicating if it is a favorite. You can scroll up and down and select a fish to access more information which takes you to the Fish Details view.

Select any one of the fish and a Fish Details view will display.

Fish Details View: A gorgeous zoomable photograph of the fish is displayed. Detailed information includes common name, Hawaiian name (if any), family name, favorites check box, and a brief description noting interesting facts about the fish such as what it eats, where it is likely to be found, whether it is unique to Hawaii, it's maximum size, and it's scientific name. Turn the phone horizontal and the fish will fill your display.

On a fish details screen, tapping the picture once momentarily brings up the zoom controls and side arrow controls and then they disappear again. You can initiate zooming and previous/next actions when they are visible. The number next to the arrows indicates how many fish remain to view in the list in that direction.

In addition to the side arrow buttons, you can simply use your finger to rapidly "fling" through the photo to the next or previous fish details view.

For quick zooming, a rapid double tap will expand the photo. You can continue a series of double taps to bring the photo to it maxiumun zoom. You can scroll around a zoomed photo by dragging it with your finger or a small fling of your finger auto scrolls slowly within the zoomed photo.
You can even log and map your excursions!
| | |
| --- | --- |
| | Your log entries can be mapped and are marked with a red flag. The GPS coordinates are recorded at the location you indicate by panning and zooming the map. |
| | Satellite data can be turned on to view the topography of your location. |
| | And then you can view all your mapped log entries at once within the Hawaiian Islands! Tapping any flag will display the details you have recorded about the site. |