Introducing Hawaii Snorkel Fish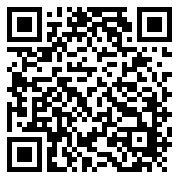 Bar code scan this QR code from your phone to download Hawai Snorkel Fish
We are excited to announce the new Android app Hawaii Snorkel Fish. The app is for all snorkelers and divers spending any time in Hawaii or anyone just dreaming of being in Hawaii. Easily identify the beautiful coral reef fish you see on your ocean excursions.

Hawaii Snorkel Fish
View over two hundred stunning underwater photographs by John Hoover, award winning marine life author and photographer. Search snorkel and common scuba depth fish found in the Hawaiian Islands together with detailed information for each. It is fast and intuitive to use. Browse by family groups, mark your favorites, search by characteristics and/or names, view a slide show with or without fish details, log your snorkel trips, and find guidebooks with even more info on Hawaii reef fish. * Android OS 2.0 and higher.
Please visit our Apps page to enjoy screenshots, video links, and further description. Manuals describes the full functionality of the apps.
Take a tour by viewing the overview video: